At Restoration, you will discover a place to belong, be empowered to believe, and be released to become all that you were meant to be in Christ.
Join us at The Restoration Place...you're welcome anytime!
Here are few FAQ's that will help you prepare for a great Restoration Experience. We want you to feel at home!
What is the service like?
You will experience dynamic and contemporary praise and worship, corporate prayer, and a practical relevant message. If you have any questions about anything that happened, swing by Connection Central in the foyer. The friendly people there can answer any questions you have!
How can I attend services?
You can join us physically at our church location (2520 Whitehall Park Drive, Suite 600, Charlotte, NC), or you are welcome to tune in to service by streaming on our website or on the church's Facebook or YouTube pages.
At The Restoration Place we encourage our guests to "come as you are". After all, it's not about what you look like or what you wear. You will find everything from casual wear to business suits at our service. We want you to dress in the manner that is most comfortable for you. Be yourself!
When you visit our church, you are our V.I.P. for the day! When you arrive on campus, one of our parking lot attendants will direct you where to park.
At The Restoration Place, our top priority is children. No matter what age your child is, we have services that are designed just for them. At Kids Place, your child won't have a chance to be bored! Children 3 months to 5th grade will have a ton of fun as they learn about Jesus through worship, age-specific lessons, and a variety of exciting activities. Our goal is to make Sunday your child's favorite day of the week!
Safety is our number one priority at Kids Place. We have a check-in system with parent identification tags, security officers throughout the facility, and team members who have passed a comprehensive background check. We also have a system in place to contact you during service if necessary. If you would like your child to participate, simply let one of our greeters know upon arrival and you will be directed to where to take them.
1st Sundays: Communion, Dedications, & Family First Giving
Live Stream Prayer Connection
Restoration Training Nights
5th Wednesdays: Night of Worship (N.O.W.)
BLOC Students & Young Adults Night
Join us in person or live online:
* Website live stream available on Sundays.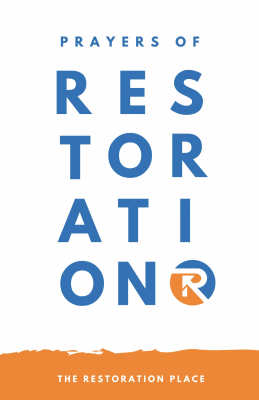 At Restoration, we not only believe in the power of prayer, we believe in the law of prayer. Download a complimentary copy of our Prayers of Restoration e-Book to begin stirring the wonder-working of God in your life.