Serving Together & Making a Difference
The Dream Team is a group of special people that have discovered their gifts and passions and are actively serving in them. From creating a comfortable environment by serving on the hospitality team, to leading the church in worship on the music team, to welcoming guests on the greeters team, to providing excellent audio, video and lighting on the production team, to praying for lives to be changed on our prayer team — we are a group that forcefully advances the Kingdom of God together.
CONNECTION

Parking Attendants
Worship Service Greeters
Ushers
Hospitality
Resources
Safety
Medical
MUSIC & WORSHIP
Vocals
Musicians
Creative Arts
PRODUCTION DEPARTMENT
Audio
Lighting
Videography|Cameras
Graphical Presentations
RESTORATION KIDS
Nursery (ages 3 Months to Pre-K)
Children's Ministry (K-5th Grade)
CAMPUS ADMINISTRATION
Admin Team
Marketing/Media
Décor
Facilities Maintenance
EVENTS
Events Coordinators
Events Support
BLOC STUDENTS & YOUNG ADULTS
1st Sundays: Communion, Dedications, & Family First Giving
Live Stream Prayer Connection
Restoration Training Nights
5th Wednesdays: Night of Worship (N.O.W.)
BLOC Students & Young Adults Night
Join us in person or live online:
* Website live stream available on Sundays.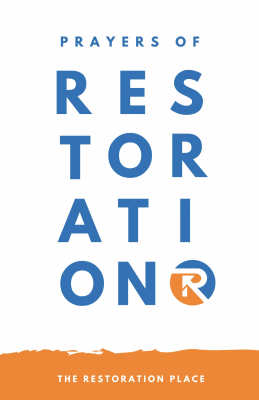 At Restoration, we not only believe in the power of prayer, we believe in the law of prayer. Download a complimentary copy of our Prayers of Restoration e-Book to begin stirring the wonder-working of God in your life.