Elevate Leadership Training
To restore, train, and equip HEALTHY servant-leaders to advance the Kingdom of God in their sphere of influence.
All those who aspire to elevate their influence and become more effective leaders both inside the four walls of the Church and in the Marketplace.
Those looking for spiritual and practical training for the five-fold ministry (Apostle, Prophet, Evangelist, Pastor and Teacher)
Elevate Leadership Training will teach you how to use Kingdom-based instruction and practical training relevant to daily living to encourage spiritual and personal growth. In this course you will become a more effective influencer inside the church and in the marketplace, you will also receive impartation and engage with world-class influencers from around the globe via live digital sessions. Upon completing this course, you will receive a certificate of competition for the Elevate School of Leadership and gain eligibility to be considered for licensing and ordination.
The course will be led by Pastor Dexter Howard, founder of The Restoration Place Church and Howard International Ministries. Guest instructors will also contribute.
Classes convene monthly on 4th Wednesdays from 7:30-8:45 pm EST
Additional sessions may be scheduled during the term
Graduation Day & Certification – Sunday, August 7, 2022, Elevate Sunday
Howard International Ministries Annual Ignite Conference
Module 1: Discovering and Understanding Servant Leadership
Module 2: Discovering and Understanding the Kingdom​
Module 3: Discovering and Understanding the Supernatural
Identity Shift – Shifting into your Sonship
Leadership – Leading in Serving
Holy Spirit – The Spirit of Christ, The Promise & The Power
Supernatural – The Manifestation of The Kingdom of God: Revival | Reformation
The Ekklesia – Rediscovering the Power of the Church
Evangelism – Realizing Restoration One Individual, Family and Community at a Time
Understanding the Prophetic – Becoming Aware & Comfortable with the Voice of God
Personal Ministry – Building Yourself and Your Family
In order to receive certification from Howard International Ministries after having completed all required courses for Elevate Leadership Training, you must have no more than 3 pre-approved absences.
For those who are interested, the completion of Elevate Leadership Training Certification is also the prerequisite for gaining eligibility to be considered for licensing and ordination for the five-fold ministry by Howard International Ministries.
1st Sundays: Communion, Dedications, & Family First Giving
Live Stream Prayer Connection
Restoration Training Nights
5th Wednesdays: Night of Worship (N.O.W.)
BLOC Students & Young Adults Night
Join us in person or live online:
* Website live stream available on Sundays.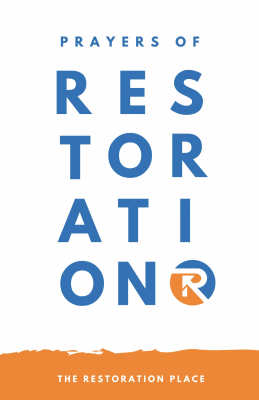 At Restoration, we not only believe in the power of prayer, we believe in the law of prayer. Download a complimentary copy of our Prayers of Restoration e-Book to begin stirring the wonder-working of God in your life.